Atkore offers the solar industry's most comprehensive portfolio of products, systems, solutions, and services.
Our complete range of solutions are designed to enhance the performance, reliability, and return on investment of all types of solar installations, spanning from utility-grade power plants and commercial ventures to industrial applications, residential rooftops, and even carports. With a proven track record in solar since the 1990s, global presence, and expertise from solar systems to grid connection and integration, to smart grids and microgrids – we are your expert partner.
Optimized Solutions
Maximize performance, reliability, and return on investment
Proven Track Record
In solar systems integration since the 1990's
Global Presence and Expertise
From solar systems to grid connection and integration
Solar Solutions Interactive Tour
Explore Atkore's virtual industry applications and experience our solutions for yourself.
Atkore Solar Value Proposition
The Value of Partnership
With Atkore as a partner, you can depend on us to deliver unmatched reliability, productivity, and safety assurance; knowing that an entire team of knowledgeable professionals is available to provide a complete packaged solution.
Longer Operating Life
Rated for UV compatibility; the combination of our engineering and manufacturing expertise results in products that deliver optimized life spans of 20+ years.
Reduce Installation Time
Select Atkore solutions are known for custom engineered and prefab solutions; patented, time-saving features that reduce the required number of installation steps.
Streamline Supply Chain
Atkore Regional Distribution Centers are a one-stop shop. One order, one delivery and one invoice for a faster and simpler process. Tell us what you need, and we'll bundle a complete portfolio of products tailored to your exact specifications.
Harsh Environment Applications
Extensive testing to ensure product performance; conditions that inc lude high wind, high vibration, intense UV exposure, extreme temperatures, and corrosive atmospheres.
Reduce Lifecycle Cost
Atkore's solar-specific solutions benefit the entire energy industry by making solar power more cost-effective overall. Combined with direct access to expert consultants and strategic R&D investments that maximize efficiencies and decrease the total cost of ownership across the entire project, our solar-specific solutions are designed with customers in mind to reduce complexity and labor, maximize system life, and lower total lifecycle cost.
Solar Product Portfolio
Panel / Array
A solar panel array is a string of solar panels connected in series. The solar panels are usually connected with solar cable and MC4 connectors. The maximum number of solar panels per string depends on the actual input voltage of the solar inverter.
Mounting Structure
Photovoltaic mounting systems (also called solar module racking) are used to fix solar panels on surfaces like roofs, building facades, or the ground. These mounting systems generally enable retrofitting of solar panels on roofs or as part of the structure of the building (called BIPV).
Racking System
Solar racking systems are used to safely fix solar panels to various surfaces such as roofs, building facades, or the ground. The system is designed to easily be retrofitted to existing rooftops and structures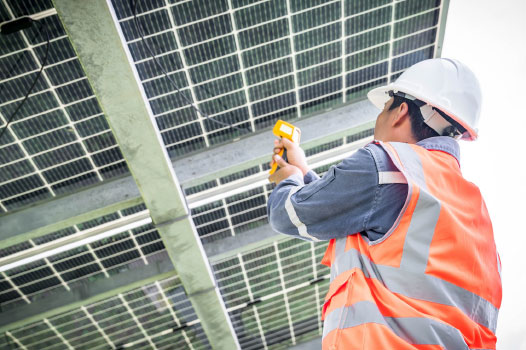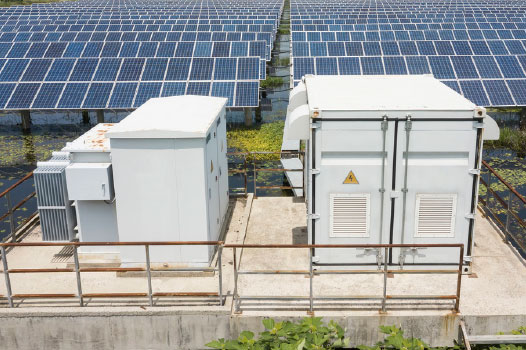 Inverter
The inverter converts the direct current (DC) electricity generated by the solar panel to alternating current (AC) electricity, in order to be used by the electrical grid.
Combiner Box
The role of the combiner box is to combine the strings from the solar panels into one box. Each string is attached to a fuse terminal; the output of the fuse terminals is combined into a single cable that connects to the inverter box.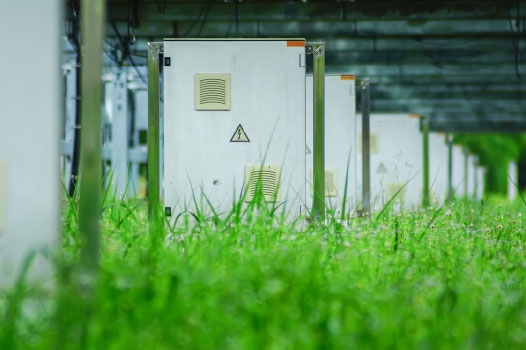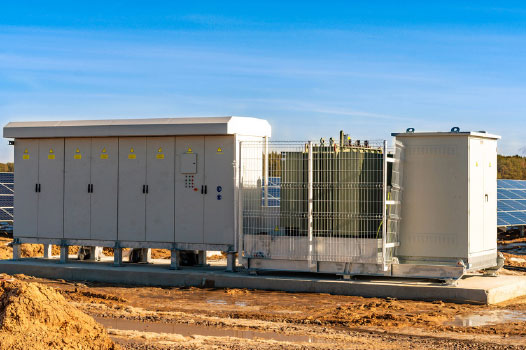 Transformer
Solar panel transformers convert the DC voltage coming out of the photovoltaic systems and step it up to the rated output. This can also be called as a solar inverter transformer because it inverts DC to AC
Substation
Substations are fenced facility owned and operated by utilities. They convert high voltages to low voltages, or vice versa. Substations are necessary because of differences in voltages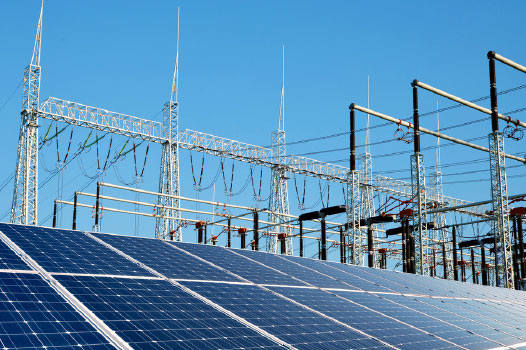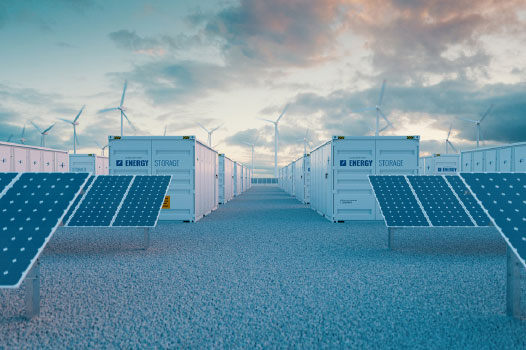 Battery Energy Storage--
Battery energy storages reserve energy for later consumption and is charged by a connected solar system. The stored electricity is consumed after sundown, during energy demand peaks, or during a power outage.
Rooftop
Rooftop solar power systems, or rooftop PV systems, are photovoltaic systems that have electricity-generating solar panels mount on the rooftop of a residential, or commercial building or structure.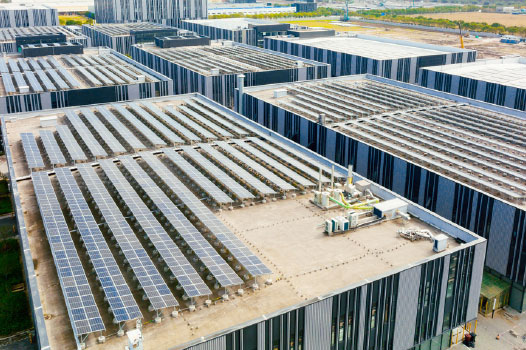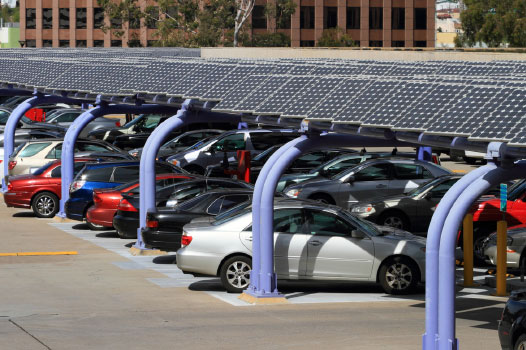 Carports / Canopy
Solar canopies are custom-built outdoor structures designed to hold an overhanding solar array. They allow for distributed solar energy generation, i.e. the production of solar electricity on-site.
Resources & Tools